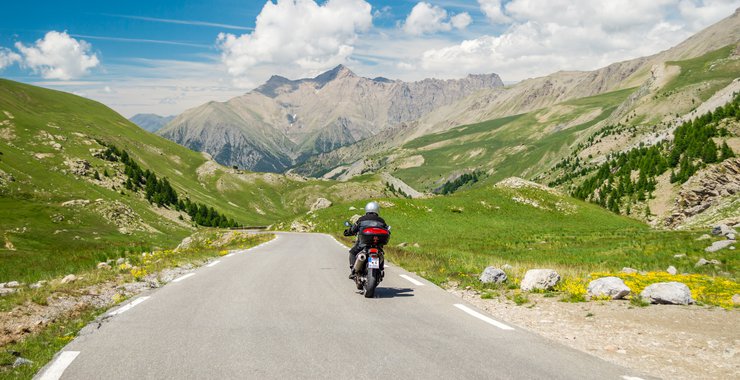 The Innocence of Uncle Reg
Uncle Reg was a priest in Yorkshire. He looked forward to death with the certainty that it would lead to eternal happiness. On my last visit he pointed out the spot where he wanted to be buried, under the dry-stone wall beside the West Riding church where he used to officiate. It was a beautiful winter's day. The gravesite was illuminated by a snowy sun; Uncle Reg, by the sunshine of faith. He had fulfilled himself totally. His maximum income from the diocese had been £800 per year, but this had never impeded happiness.
Uncle Reg's one secular passion (not vice) was motorcycles. The great love of his life (after Christ and the Church) was a Norton 500. As I saw him ascending Pennine hills with the throbbing Norton beneath him, I realized that this was a mechanism for dealing with celibacy. I am sure that this thought had never occurred to him.
Unbeknown to Uncle Reg a Norton 500 was used by Che Guevara for his tour of South America as he developed political awareness while a medical student. The same engine powered two radically different purposes. Che gave his motorbike the name La Poderosa, the powerful one. He used the feminine of powerful in Spanish to describe the bike, probably appropriate for Che's feelings – and for Uncle Reg's. However the dominant feature in Uncle Reg's personality was innocence. As he had heard sinners' confessions for sixty years, Uncle Reg was no stranger to wordly wickedness. But his own goodness was untainted and undaunted, resting on a rock-like confidence in Divine Grace. Father Reg's simplicity and sweetness of nature always reminded me of Chesterton's Father Brown.
There is a gene for financial meanness that descends in my family. It lives comfortably with a gene for human generosity. Uncle Reg possessed them both. The generosity found daily expression. Once when he was the priest of an inner city parish, he organized a first communion where each child would kneel at the altar rails with father and mother. One little boy had a young mother but no father. She explained that the father was a West Indian Rastafarian last seen a couple of years before. Uncle Reg spent a day tracing the father and spoke to him so that at the ceremony he knelt with his child, the priest giving the Rastafarian a special blessing in front of his son.
The gene for economy was expressed par excellence when Uncle Reg returned from officiating at the wedding of a cousin in Northern Spain. Uncle Reg had ridden to the wedding from Yorkshire on the Norton. He believed that he did this to save money. I believed that the pleasure of the ride also played a part. But money was saved. He returned across France, developing a foolproof system for being offered free accommodation. He travelled on small roads passing through small towns. Towards evening he would find the church in the town or village and knock on the door of the presbytery. He would ask the French priest if he could say mass there the next morning. "Of course father, but do you have somewhere to stay?" "Oh…I'm just going to find somewhere." "Father, please come and stay here, and have you had dinner?"  So Uncle Reg proceeded through France on his Ponderosa glowing with post mass spirituality and good French sacerdotal dinners.
And so to Paris where he knocked on the door of Notre Dame Cathedral:  "Can I say mass here tomorrow?".  "Yes, at eleven o'clock". But there was no offer of a bed and dinner. Uncle Reg returned to Notre Dame at half past ten the next morning. He was surprised to find the sacristy crowded with about sixty priests. Vestments were laid out around the room. He vested but could not find a stole to put around his neck. In the mêlée of priests he approached one to mention the lack of a stole. "Take mine" said the priest. Uncle then stood a little confused among the throng. The one who had given him the stole seemed to be in charge. "Come with me, Father". So Uncle Reg found himself leading a two by two procession out of the sacristy beside the priest who had given him the stole. Uncle Reg approached the high altar and stood in the centre as the others fanned left and right. Organ music added dignity. He was aware of a packed nave ahead. When he raised his eyes from the altar, there on the front row stood President Mitterrand with Mrs Thatcher beside him, both with their eyes fixed on Uncle Reg. Unbeknown to him this was the mass to celebrate the fiftieth anniversary of the liberation of Paris. The priest who had given him his stole was Cardinal Lustiger, the Archbishop of Paris.
From innocence expect anything, especially if travelling on a Norton 500.