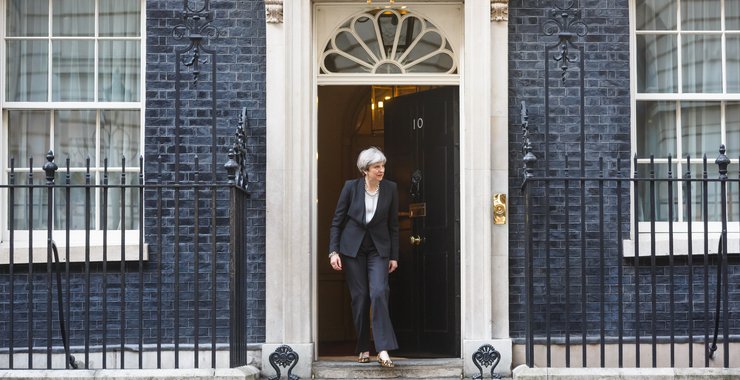 She's Got To Go
Today, commentators on Tory politics face a dilemma. The chronicling of chronic incompetence is a necessary duty. But how can one prevent this from declining into repetitious tedium? Thinking about that took me back to the Sixties and Seventies: the era of vinyl records. Those of us who were underwhelmed by Bruckner's symphonies had a recurrent problem. 'Bababa, bababa, bababa:' was the record stuck, or was it merely the composer?
That was also the age of the Peter Simple column in the Daily Telegraph: the funniest writing in the history of journalism. In those days, Sir John Barbirolli, a formidable figure, was in charge of the Halle orchestra. This sparked off a splendid Simple-ism: 'Sir Jim Gastropodi is to conduct the Soup Hales symphony orchestra in a performance of Bruckner's interminable symphony.'
So who is conducting the Tory party in the performance of its interminable travails? The Prime Minister asks for sympathy from M. Juncker: not since Charles 11's trucklings to Louis X1V has any British head of government behaved in such a humiliating fashion. She ought to be reminded that even if she is not a serious figure, this is a serious country. It is also asserted that she has taken to threatening the foreigners with Boris, claiming that he would be worse than her. For once, she is probably right. She has at least found one use for a live Boris.
At the risk of repetition, three points are basic to the debate. First, if all the senior figures in the Tory party were taken into custody, and told that they would not be released until they had explained their party's policy on Europe - they would be facing perpetual imprisonment. That will be the case unless and until a PM gets a grip.
Second, the Tories are totally failing to explain their domestic agenda. In response to the Corbynista critique, the best on offer is panic-stricken me-tooisms. That is useless. Tory policy should be built round five clear goals: a property-owning democracy, work that pays, good education, a health service which strives to universalise best practice, and taxes as low as possible allowing for the demands of fiscal common-sense. We could add a sixth: public servants who believe in serving the public, as opposed to Chief Constables who think that nail-painting is more important than thief-taking. None of that is hard to expound. In each case, the detail is troublesome, but there are at least ten outstanding and increasingly frustrated young-ish politicians on the back-benches, or the junior ministerial ranks, who cannot wait to get tore in to the politics and the policies. That will not happen until a PM gets a grip, clears out failure and promotes promise.
Third, it all comes back to getting a grip. That cannot happen as long as Theresa May is in office. When she is not hawking her self-pity around the continent, she is hawking her dithering around Downing Street. For the past few months, I have not met a single Tory who has faith in Mrs May. She is there because it would not be easy to get rid of her. As a result, she is weak but stable. But that is not the stability of a Prime Minister of Great Britain and Northern Ireland. It is the stability of a long-stay comatose patient on a life-support machine.
Every day that she remains in office undermines her party and her country. There is an alternative: Michael Fallon, who would slip easily into the job while encouraging rising talent. Indeed, even if he took office as an interim, he might not be as interim as all that.
As long as the hapless old girl is there, Britain will be adrift while Corbyn rises. Any patriotic Tory - and that ought to be a tautology - should find that intolerable. She's got to go.